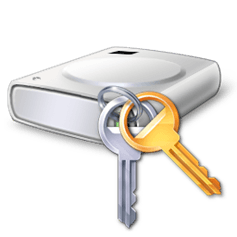 Lorsque vous tendez de crypter un répertoire ou un fichier localisé sur un emplacement réseau à l'aide d'EFS, vous recevez l'erreur :
The requested operation connot be completed. The computer must be trusted for delegation and the current user account must be configured to allow delegation.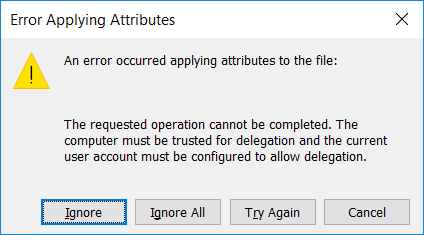 Je n'ai personnellement pas trouvez la root cause de cette erreur. Celle-ci est causée par l'absence d'autorisation sur la délégation Kerberos au niveau du compte machine. Mais je n'ai pas identifié un tous les cas de figure que provoque cette erreur.
Théoriquement, le cryptage réalisés par EFS sont réalisés par la machine qui héberge les données. Dans ce cas ci, le serveur de fichier qui possède le partage. Vu que le cryptage est réalisé avec le certificat EFS e l'utilisateur, il est nécessaire que la machine puisse obtenir ce certificat afin de réaliser l'encryptage.
Autoriser la délégation Kerberos sur le compte machine qui héberge le partage.
Une fois la délégation Kerberos autorisée, un redémarrage du serveur est nécessaire. J'ai aussi constaté que la délégation est prise en compte après un certain temps.