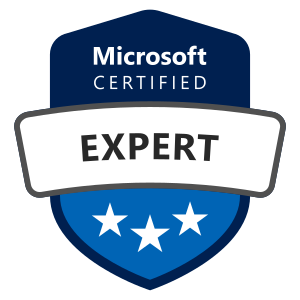 La validation de la certification "Microsoft Certified: Cybersecurity Architect Expert" est soumise à l'obtention de l'examen "SC-100: Microsoft Cybersecurity Architect" et à minima l'une des certifications de niveau Associate autour de la sécurité à savoir:
Toutes les informations sont disponibles dans le lien ci-dessous :
Cet examen porte sur les sujets suivants :
Design a Zero Trust strategy and architecture (30–35%)
Evaluate Governance Risk Compliance (GRC) technical strategies and security operations strategies (20–25%)
Design security for infrastructure (20–25%)
Design a strategy for data and applications (20–25%)
Tout le détail est disponible dans le PDF ci-dessous :
Comme pour tous les nouveaux examens en bêta, vous pouvez vous inscrire à  celui-ci et bénéficier de 80% de réduction avec le code promo :
Pour bénéficier de cette réduction, vous devez faire partie de 300 premiers inscrits et passer l'examen avant le 05/05/2022.
Pour le moment, il n'existe pas de parcours de formation dédié à cette certification dans Microsoft Learn, cependant vous pouvez vous appuyer les parcours de formation des trois certifications en prérequis en mettant l'accent sur la SC-200 et SC-300.
Vous trouverez ci-dessous le lien de l'article de blog MS Learn :
Bonne certification !!!